Founded by caring Australians and based on Christian values and ethics.
The aim of its members is to promote the common good by endorsing responsible, long-term goals, and not short-term gain.
Support the work of the Christian Democratic Party
Thank you for your interest in the work of Fred Nile and the Christian Democratic Party. If you would like to make a donation to support this vital work, please use our online donation form. Donate
The CDP party launch for the WA Senate Candidate for the upcoming Federal Election will be held at the City Church of Christ, 23/ 7 Aberdeen Street, Perth at 6.30pm on Sunday the 5th of June. This is your opportunity to meet the Rev. Hon Fred Nile MLC and our lead... read more
The only true Conservative Alternative
The Rev Hon. Fred Nile MLC – CDP Federal President
Follow Us on Facebook
Christian Democratic Party of Australia
Monday, May 30th, 2016 at 11:25am
Turnbull, Shorten clash in debate
MALCOLM Turnbull told how his single dad battled to find the money to send him to school as he attempted to blunt class warfare attacks from Bill Shorten during the first formal debate of the campaign tonight.
49 9 View on Facebook
Follow Us on Twitter



Saturday, May 28th, 2016 at 8:12am
RT @frednile: I condemn the attack on Coptic Christians in Egypt. The stripping and parading of a 70yo Coptic women is disturbing. https://…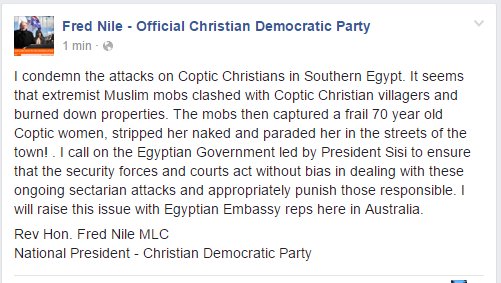 Friday, May 27th, 2016 at 7:08am
The CDP will continue to defend traditional marriage, our religious freedom, and our right to free speech. #ausvotes https://t.co/ZJGF65l5Cx